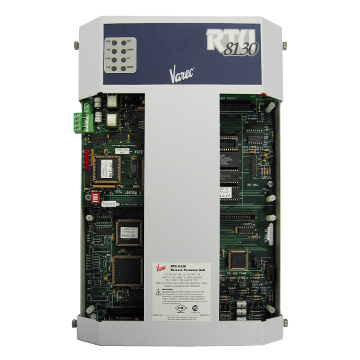 8130 Remote Terminal Unit
The 8130 Remote Terminal Unit (RTU) collects and transmits data from field instruments to a central system, such as FuelsManager®, host DCS or PLCs. All information obtained can be used for inventory, alarm, control and automation.
NOTE: This product is approaching its end-of-life status. Please contact sales or your local rep for current inventory availability for new units and/or spare parts. 
Overview
Specifications
Options
Resources
Related Products
Modular Communications
The 8130 RTU supports up to four interface modules at one time that can interface to virtually any tank gauge on the market. With over 20 types of modules available, it is possible to integrate float and tape transmitters, HTG, servo, magnetostrictive and radar gauges from different manufacturers – all using a single device.
Control and Automation
A full range of I/O interfaces is available for the 8130 RTU, offering connectivity to virtually every type of signal encountered in industrial environments. Analog, digital and serial data inputs and outputs support simplifies integration and increases control and automation possibilities.
Configuration and Support
The 8130 RTU allows remote configuration of your tank gauges, which means less on-tank activities, resulting in less personnel risk. The gauge configuration data can then be exported to other applications, such as Microsoft Excel® or Access®; thus documenting all tank gauge equipment.
Built-in Software
Software "blocks" built into the device provide a broad range of complex, but commonly needed functions, such as analog scaling, flow measurement and totalization, digital alarm handling, and pump/valve acquisition and control.
Power
Supply – 110–120 V AC or 200–240 V AC @ 50/60 Hz or 18–36 V DC
Consumption – 50 VA max @ 110/220 VAC (500 mA), 20 VA max @ 24 VDC
Operating Temperature Range
‐40 to +158 °F (‐40 to +70 °C)
Approvals
FM ‐ Class I, Division 2, Groups A, B, C & D T3C (with optional NEMA 4 enclosure required)
CSA ‐ Class I, Division 2, Groups A, B, C & D (with optional NEMA 4 enclosure required)
01 Power Supply
110…120 V AC 50/60 Hz
220…240 V AC 50/60 Hz
18…36 V DC
02 Host Emulation
None
TSU Emulation ‐ for connection to Varec TankView systems
CIU Emulation ‐ emulates Enraf model 858 CIU interface
03 Field Communications
None
Varec Matrix Communication ‐ interfaces to Varec Matrix devices (1600/1700) require 8210, 8201 & 8204 Interface Modules
MODBUS Master Communication*
CIU communication ‐ interfaces to existing Enraf 858 CIU devices*
Veeder Root (TLS 350) Communication*
Hectronic OptiLevel Communication*
Note! * Using RTU motherboard communications ports
04 Calculations
None
Hybrid tank calculations
Hydrostatic tank calculations
05 Strapping Tables
None
Embedded tank strapping tables
Floating Roof Tank with Floatwell
Tank Top Mounting
Bolted Tank
Cone Roof Tank with Pan (No Floatwell)
Floating Roof Tank (No Floatwell
06 Approvals
For use in non‐hazardous areas
FM ‐ Class I, Division 2, Groups A, B, C & D T3C (with optional NEMA 4 enclosure required)
CSA ‐ Class I, Division 2, Groups A, B, C & D (with optional NEMA 4 enclosure required)
16-Channel Digital I/O
Interface Module 8201
16 digital I/O channels
24 VDC, 120 or 240 VAC
Channels individually configurable for input or output
Dedicated status LED
Dedicated fuse for output modules only
Requires two I/O expansion module slots
MODBUS Dual RS-485
Interface Module 8203
Dual high-speed communications channels
Optically isolated
Up to 32 devices per channel
Communications with instruments using Rackbus, MODBUS, DDA, or Petrosense Probe protocols
Requires one I/O expansion module slot
8 Channel Multi-Function
Interface Module 8204
Isolated analog (4-20 mA), Thermocouple, RTD inputs, high speed pulse accumulation or digital I/O channels
24 VDC, 120 or 240 VAC operation
Individually configurable for input or output
Dedicated status LED/fuses
Requires one I/O expansion module slot
16 Channel Analog Input
Interface Module 8205
12 bit accuracy A/D with common-mode noise rejection
Dedicated fused 24V line for each channel
Throughput accuracy (field to database) = ±0.012%.
Each channel individually configurable for; 4-20 mA loop powered input, 4-20 mA self powered, voltage input
Requires two I/O expansion module slots
8-Channel Analog Output
Interface Module 8207
16 Bit accuracy D/A converter
Current or voltage level output (0-24 mA, 0-20 mA, 4-20 mA & 0-5V)
8 channels
Requires one I/O expansion module slot
TIWAY (Texas Inst.)
Interface Module 8208
Dual high-speed communications channels
Optically isolated
Up to 32 devices per channel
Communications using TIWAY or CIM protocol
Requires one I/O expansion module slot
Mark/Space (Varec)
Interface Module 8210
Supports up to 50 tanks
Communicates using Mark/Space protocol
Interfaces to the Varec 1900 and compatible tank gauge transmitters
Requires one I/O expansion module slot
Current Loop
Interface Module 8211
20 mA current loop
Up to 15 devices per channel
Two channels
Communicates using GPE or Whessoe Bus protocol
Requires one I/O expansion module slot
TRL/2 (SAAB)
Interface Module 8212
Saab (Emmerson) TRL/2 Bus
Up to 16 Saab Radar Tank Gauges per channel
Two channels
Requires one I/O expansion module slot
BPM (Enraf)
Interface Module 8214
Transformer isolated
Up to 10 tanks per channel
Two channels
Communications with Enraf tank gauges
Requires one I/O expansion module slot
Tankway (L&J)
Interface Module 8215
Supports up to 50 tanks
Communicates using L&J Tankway protocol
Interfaces to L&J Tankway compatible tank gauge transmitters
Requires one I/O expansion module slot
LON (Prime/Barton)
Interface Module 8216
Supports up to 128 tanks
Communicates with LON Series 3500 TCU
78 Kbps twisted pair LON interface
Requires one I/O expansion module slot
Dual RS-232
Interface Module 8217
Dual high-speed communications channels
RS-232 communications
Communicates with L&J Model 8100
Communicates with Veeder Root TLS-350
Communicates with Universal Sensors & Devices CATLAS
Communicates with Enraf CIU
Communicates with MODBUS devices
Requires one I/O expansion module slot