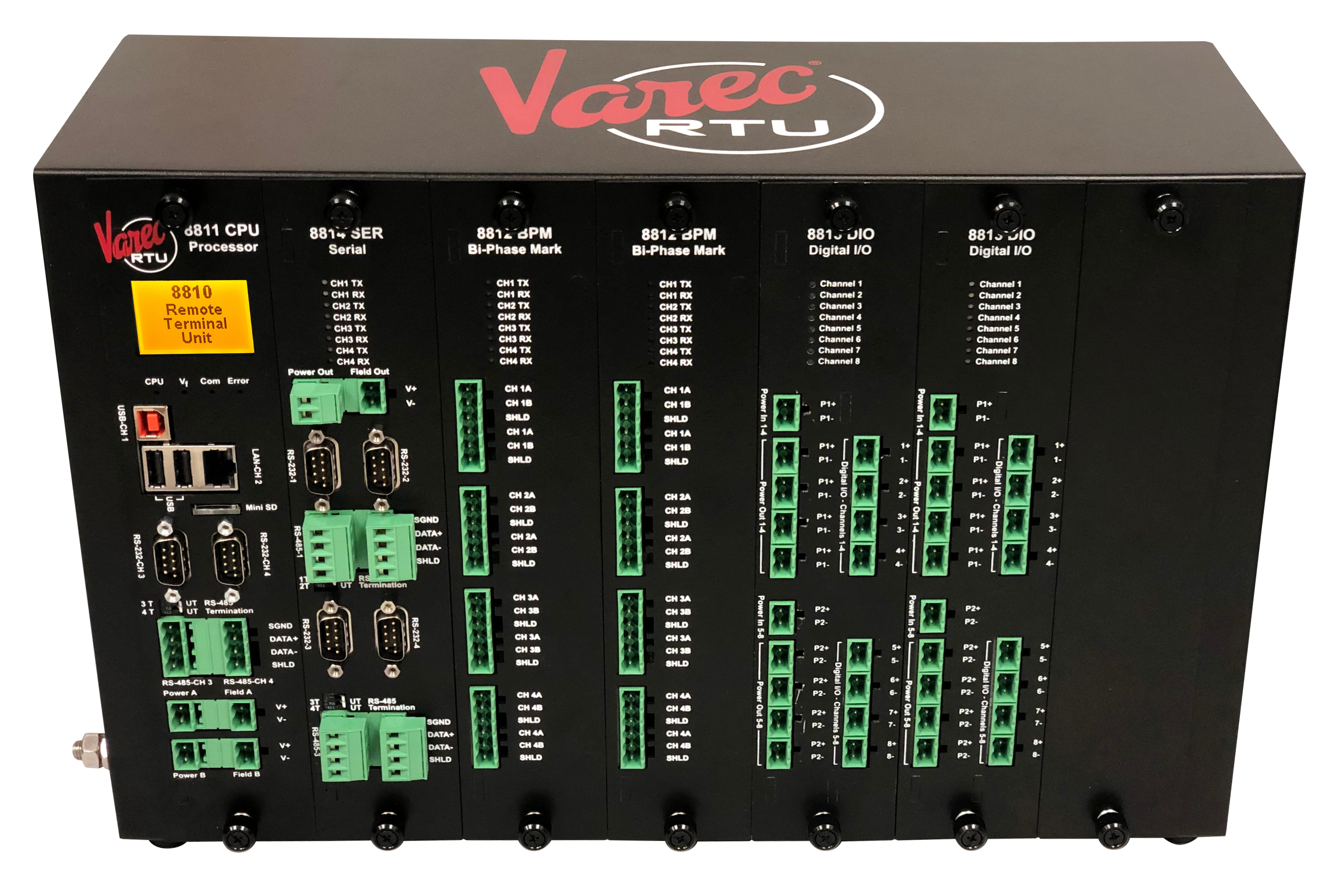 8810 Remote Terminal Unit
The 8810 Remote Terminal Unit (RTU) is a modular, Ethernet ready, communications device. Its powerful industrial chassis is ideal for integration with tank gauges and other field devices used in inventory management applications. With support for up to six interface modules, it is extremely flexible in handling data exchange across multiple communication protocols.
Overview
Specifications
Options
Resources
Related Products
Next Generation Communications Device
With the CPU module serving as the base functionality for the 8810 RTU, all logic and protocols are handled seamlessly, meaning there is only one firmware application for the entire unit.
The standard, built-in OPC Unified Architecture (OPC UA) server communicates natively over standard internet protocols. This allows human machine interface (HMI) applications to read data from the 8810 RTU. It is also compatible with a wide range of systems, including legacy Varec systems, using RS-232 and RS-485 standards.
8810 RTU Key Features:
Ethernet ready, provides high-speed communications in near real time
Integrates with legacy tank gauging protocols
Industry standard OPC UA
Modbus for host or field integration
Supports both Modbus TCP and Modbus over TCP
Supports up to 400 tanks
Supports up to 27 communication channels
Digital input/output for alarms, monitoring, and control
Intelligent scanning based on tank activity
Includes the Vertue browser-based configuration application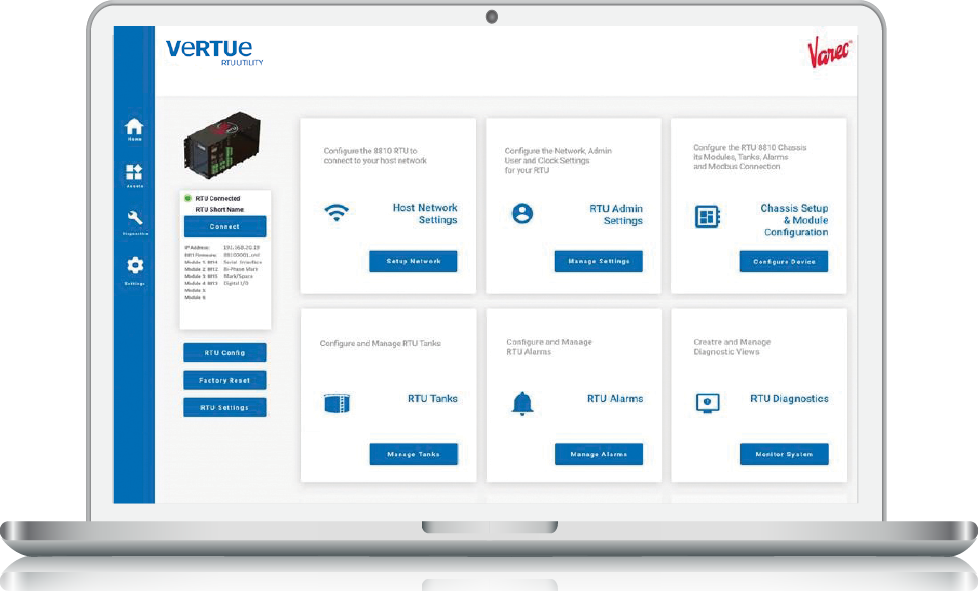 VeRTUe RTU Utility
The 8810 RTU comes with its own configuration application. Vertue is intuitive, extremely user-friendly and browser-based.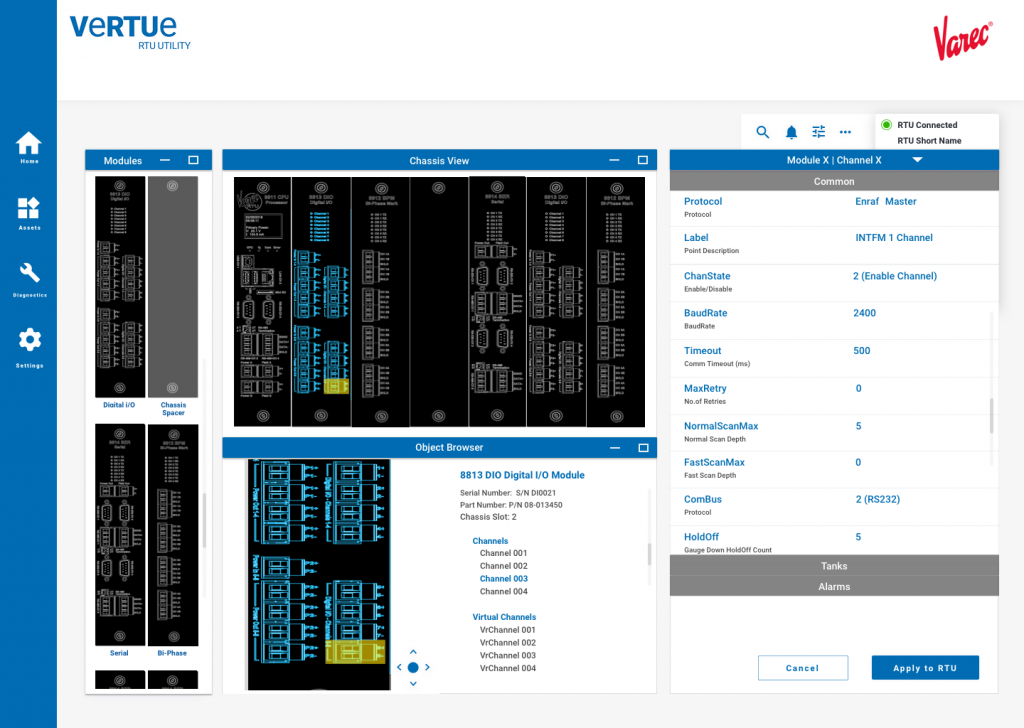 VeRTUe Key Features:
Standard with 8810 RTU for configuration
Intuitive browser-based user interface
Optimized for bulk liquid applications
Configure using any workstation on the network
Efficiency tools for common actions
Supports offline configuration
Pre-configured or customized diagnostics
Add-on Modules
Four add-on modules* are available as options in the first release: Serial, Bi-Phase Mark, Digital I/O, and Mark/Space.
Serial Module:
Any serial channel can be configured for Modbus Slave or Master protocols
Easy integration and retrofit through mappings that mimic other systems
Support for user mappings of Modbus registers to 8810 RTU tags and parameters
Standard Modbus mappings allow external hosts to connect and retrieve data without impacting the current 8810 RTU configuration
Supports Enraf using a CIU
Used for both host and field functionality
Supports legacy 8130 RTU protocol
Digital I/O Module:
Logic and digital signal processing implemented in CPU module
Includes eight ports for interfacing with digital I/O circuits
Nine combination of inputs and outputs on a single eight channel module
Supports integration of digital signals such as alarms
LED indicators provide visual status of each port
Bi-Phase Mark Module:
Supports connection and communication to Honeywell Enraf Bi-Phase Mark loops
Provides four interface ports per module
Each port includes two termination plugs
Two terminal plugs per port allows gauging loops to be combined into one channel
Two terminal plugs allow a connection point for a test gauge or transmitter without disturbing an existing loop
LED indicators provide visual status of each port
Mark/Space Module:
Integration to Varec devices, i.e. model numbers 1800, 1900, 4000, 2910, and 2920
Supports GSI 2000 M/S transmitters
Two independent Mark/Space channels
Supports high speed and low speed Mark/Space transmitters
Flexible power distribution as each channel can be independently powered by the 8810 back plane or an external power supply
Each channel has a replaceable fuse
LED indicators denotes status for each channel, i.e. transmit, receive, power selection/fuse, and bus failure
2500 V(rms) isolation for each channel from field to internal electronics
*Future modules currently under development.
Integrates with HMI Applications
The 8810 RTU can be integrated with a variety of human machine interface applications.  FuelsManager, a suite of software applications used to track, manage and control the receipt, storage, distribution and delivery of fuel and related products, has built-in functionality for easy integration with the 8810 RTU.  Examples of other supported HMI manufacturers include Honeywell, Rockwell Automation, Emerson and Wonderware.
Industry Approvals
The 8810 RTU meets radiated and immunity as for the following:
United States – FCC
Canada – IECS
Europe – CE and RoHS
Module Architecture
• Complete Computer Control System
• Inputs are reported to Host Computer by Scanned Poll
• Built-in Software Function Library
• Surge Protection Conforming to ANSI/IEEE C37.90a-1974
• Host Communication via RS-232 and RS-485
• Industry Standard Protocols: Modbus and OPC UA
• I/O Interfaces: DI, DO
• Quick-Disconnect I/O Terminations
• Modular Construction for Optimum Expandability
• Non-Volatile Database
• Redundant power inputs
• 6 expansion slots
• 27+ channels (more for DIO)
• Supports up to 400 tanks
• Green Hills INTEGRITY RTOS with ARINC-653 Partitioning
• NIST SP 800-53 & FIPS 140-2 Compliant (future)
I/O Expansion
The available expansion modules are listed below:
• 8812 BPM: Bi-Phase Mark
• 8813 DIO: Digital I/O
• 8814 SER: Serial
• 8815 M/S: Mark/Space
Memory
• 800 MHz quad-core CPU
• 1 x 32 GB USB flash drive
• 2 x 32 GB mini SD cards
• 2048 MB high-speed RAM
DC Power
18-65 VDC, 20 W max (CPU Module)
TCP/IP Communications
100 Mbps Ethernet interface using OPC UA over TCP/IP and Modbus over TCP
Serial Host/Slave Communications
• Selectable Data Rate, 1200 to 115200
• RS-232 or RS-485 communications
• RS-485 Maximum Cable Length (18 AWG), 4000 ft/1200 m
• RS-485 Maximum Multi-dropped Units, 32
Physical
8810 RTU Case: 15.50″ W x 9.85″ H x 6.00″ D
Environmental
• Operating Temperature: -40°F to 185°F; -40°C to +85°C
• Storage Temperature: -40°F to 212°F; -40°C to 100°C
• Humidity: 0 to 95% RH non-condensing
• Ingress Protection: NEMA 1, IP30
Discrete Inputs/Outputs
• Maximum Quantity: 48
• Isolation Voltage: 4000 Vrms
• Maximum Current: 2.0 A
• Operating Voltage:
–Output: 3-60 VDC
–Input: 3-32 VDC
8810 Remote Terminal Unit
The 8810 Remote Terminal Unit (RTU) is a modular, Ethernet ready communications device. Its powerful industrial chassis is ideal for...