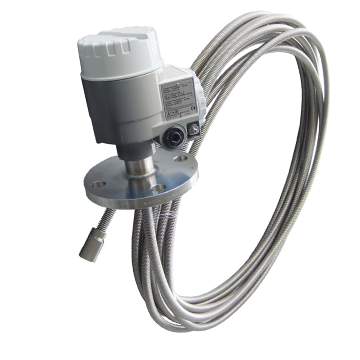 Prothermo NMT532 Average Temperature Converter
The Prothermo NMT532 average temperature converter and sensor is an intrinsically safe, multi element (Pt100) resistance device designed to measure the average product temperature in bulk liquid storage tanks.
Overview
Specifications
Options
Resources
Related Products
Meets API Standards
The Prothermo NMT532 is installed vertically onto spheres, bullets, cone, dome or floating roof tanks. Measurements are based on API (American Petroleum Institute) Manual of Petroleum Measurement Standard, Chapter 7.
Liquid and Vapor Profiles
The Prothermo NMT532 contains up to 6 temperature elements, spaced at 2 or 3 meter intervals along the length of the probe. A continuous measurement profile of average liquid and/or average vapor temperature throughout the tank is available by reading the position and temperature of each element.
Tank Gauging System
Power and local HART communications are provided over a 2-wire, intrinsically safe (i.s.) connection from compatible instruments, such as the Varec 6005 Servo Tank Gauge (STG), 4560 Servo Gauge Monitor (SGM) or the 4590 Tank Side Monitor (TSM).

Probe Elements
2-6 Platinum (Pt. 100), Class A element, multi spot configuration with a fixed interval of 6 to 9 feet, (2 or 3 meters) per IEC PUB 751 1995
Accuracy
‐30 °F to +160 °F (‐34 °C to +71 °C)
Measuring Range
‐20 to + 100 °C, (‐4 to +212 °F)
Power & Communications
DC16‐30V input (DC24V ±10% is supplied by the HOST i.s. HART communication line for standard applications.)
The Prothermo NMT532 consumes an average fixed current of 6.0 mA.
Approvals
Factory Mutual (FM) ‐ Intrinsically Safe ‐ Class I, Division 1, Groups A/B/C/D
Contact Varec for ATEX and IECEx approved devices.
Housing: rated IP65 (open housing: IP20)
Probe: rated IP68
For complete technical specifications, download the technical document or product manual.
01 Approvals
FM – Intrinsically Safe – Class I, Division 1, Groups C & D
Contact Varec for ATEX and IECEx approved devices
02 Cable Entry
Thread NPT 1/2
Thread M20
03 Process Connection
2″ 150lbs RF, 304 flange ANSI B16.5
DN50 PN0 B1, 304 flange EN1092-1 (DIN2527 C)
04 Length Elements & Spacing
…mm; 2x Pt100; 2 m (min 2,500 mm, max 4,500 mm)
…mm; 3x Pt100; 2 m (min 4,500 mm, max 6,500 mm)
…mm; 4x Pt100; 2 m (min 6,500 mm, max 8,500 mm)
…mm; 5x Pt100; 2 m (min 8,500 mm, max 10,500 mm)
…mm; 6x Pt100; 2 m (min10,500 mm, max 12,500 mm)
…mm; 2x Pt100; 3 m (min 3,500 mm, max 6,500 mm)
…mm; 3x Pt100; 3 m (min 6,500 mm, max 9,500 mm)
…mm; 4x Pt100; 3 m (min 9,500 mm, max 12,500 mm)
…mm; 5x Pt100; 3 m (min 12,500 mm, max 15,500 mm)
…mm; 6x Pt100; 3 m (min 15,500 mm, max 18,500 mm)
05 Installation Accessories
Anchor weight 7.09″ tall, diameter 4.72″ (180mm tall, diameter 120mm)
Anchor weight – Low Profile to be laid on bottom of tank Length 39.37″ (1000mm); Diameter 1.61″ (41mm)
Tensioning wire, wire hook, NPT 1″ top anchor
Tensioning wire, wire hook, R1 top anchor