Varec has a deep understanding of the complex operational and technology needs related to bulk fuel storage management for the U.S. Department of Defense and international defense agencies.
We offer integrated solutions for air, ground and marine logistics to measure, control and automate fuel management, and gain global visibility into local and remote inventories. Our FuelsManager® software has been U.S. DoD Risk Management Framework (RMF) certified and accredited, and all components of the system have been developed to meet or exceed RMF security requirements for software and hardware systems.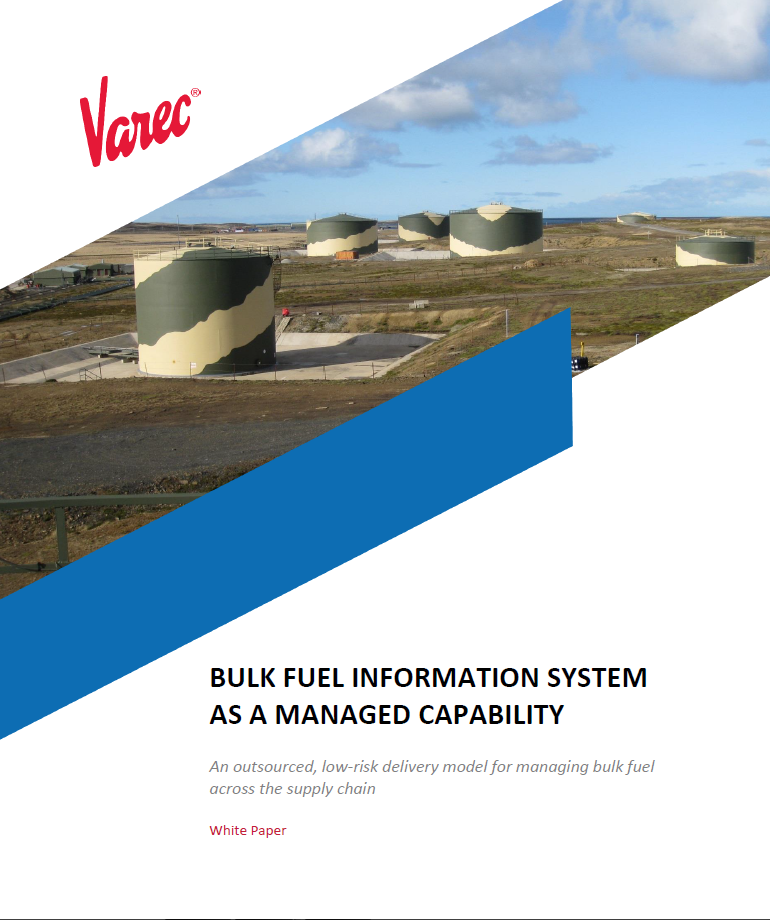 Bulk Fuel Information System as a Managed Capability
//= wp_trim_words(get_the_excerpt(), 15, '...'); ?>
Read More

Defense Fuel Supply Diagrams
Centralized Fuel Management
With a centralized enterprise fuel management solution, our customers are able to access multiple FuelsManager applications across all sites and locations. All fixed base and tactical operations are connected to the enterprise to provide a worldwide overview of inventories and plant status, while also automatically delivering reports securely. Automated reporting services, integration with Microsoft® Office and third-party business systems such as SAP® are also supported.
Fuel management at the enterprise is also more efficient as the system is integrated across all managed sites. Easier control and administration helps ensure that authorized users are only able to access the data that is relevant to their base or business operations. An enterprise system also reduces IT capital expenditures as no local software needs to be installed, nor are there databases or servers to manage and maintain.
Inventory Management
From single fuel storage tanks, large tank farms, and other fuel points, we offer a complete solution for all fuel activities. By integrating our level instruments and interfaces with FuelsManager, operators can efficiently and accurately manage inventory and report daily stock position to the enterprise. As a single system for bulk fuels management, FuelsManager applications provide intuitive interfaces that display measured values from tank gauging systems, and SCADA functionality for pumps, valves and other automation equipment. This helps provide support for leak detection, overfill monitoring and safety alarms. It also tracks all product movements, totals and discrepancies from tank-to-tank transfers, shipments, receipts and water drains. On-base truck racks include inventory management, pump and valve control, and transaction management during vehicle refueling operations.
Remote Storage and Management
Leverage our complete TacFuels® solution to improve fuels accountability and auditability at tactical or expeditionary fuel points and remote facilities. The measurement of fuel inventories stored in collapsible bladders is fully automated with fuel gauges specially designed for these types of storage tanks. With this integrated FuelsManager  application, a high level of accuracy is achieved as the common human errors associated with manually recording the receipt of bulk fuel or measuring physical inventory and distribution to vehicles, equipment or other locations, is eliminated. This level of asset visibility and control helps provide reliable insight to make informed decisions that support all levels of the organization. With automation, operations can also help reduce or prevent theft and fraudulent disbursements.
Inventory Accounting and Reconciliation
From the tank farm to the flight line, managing daily fuel-related transactions with an efficient inventory reconciliation and audit trail is made easy with the FuelsManager Accounting application. Operators gain critical visibility in order to create end of day or end of month closeouts, capture physical inventories from storage terminals and calculate variances, maintain accurate records, and reconcile book versus physical inventories by site, owner or product on a daily basis. They also gain insight into inventory gains and losses by product per day and month. Meter reconciliation is also supported across all fueling points to enable daily reconciliation for any out of balance inventories.
Mobile Fuel Management
Leverage a mobile point-of-sale solution to replace paper tickets, improve the accuracy of recorded fuel transactions and streamline administrative processes. Using a ruggedized tablet integrated with FuelsManager, in-the-field data entry can be replaced with a fully automated defense fuels management system. The tablet provides operators with time, location, aircraft and fuel load information for efficient dispatching. It also captures accurate fuel load data, automatically performs net volume calculations to API standard, validates data entry calculations, updates the accounting application for timely fuel reconciliation and reporting, and supports multiple point-of-sale operations and transactions types. In addition, FuelsManager helps dispatchers make correct and timely decisions for fuel requests by providing real-time views into the status of fueling operations, personnel and equipment.
 Service Station Management
Capture every transaction in detail to have full visibility of fuel usage throughout the supply chain. The FuelsManager Service Station Management application interfaces directly to the Gilbaro Gasboy Islander PLUS Fleet Management terminal to manage the complete fuel sale process in real time. This exclusive integrated solution provides an automated defense fuels management system for unmanned service stations and military fuel points. The solution validates authorized users and payment methods before fuel is dispensed and updates the accounting application with completed transaction data to support timely fuel reconciliation. It also formats the transaction data so that it is export ready for enterprise reporting or external business systems such as SAP.