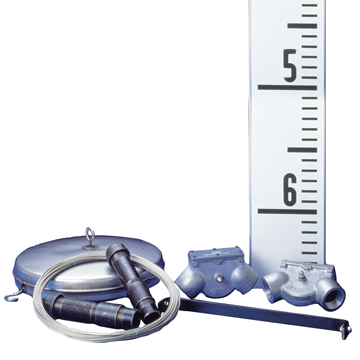 6700 Liquid Level Indicator
The 6700 Liquid Level Indicator (LLI) is a tank side device that uses a target and gauge board to indicate product level in a bulk storage tank. This simple and reliable float and tape based product has been used for managing inventory in the oil and gas industry for more than 80 years.
Overview
Specifications
Options
Resources
Related Products
Economical, Durable Design
This is the simplest measurement product on the market today. A float follows the liquid level as it changes in the tank, which then moves the indicator cable up and down the aluminum gaugeboard. This simple technology will not break your budget.
Easy-to-Read Display
Choose the units that fit your business, either in feet/inches or meters/decimeters. A large format scale is printed on a durable vinyl facing that can be seen at a distance.
On Your Tank
Select the installation kit suitable for your bulk liquid storage tank. We also supply many accessories, such as manway covers, inspection covers, oil seals, tank brackets and more. If you have one of our competitors' boards we can easily upgrade the gaugeboard, float, or tape, without replacing the hard mounted tank fittings.
Level Alarms
Get more out of your existing liquid level indicator — Varec's magnetic limit sensors go hand-in-hand with any tankside gaugeboard or liquid level indicator. Kits are available with one to four sensors; simply bolt each sensor to the gaugeboard at the height you need an alarm and wire them to your system.
Training and Support
The 6700 LLI, its accessories, and it's spare parts are available to ship today. Every part is supplied with detailed user instructions, but sometimes you need to see how it's done. That's why we also have a YouTube channel with basic how-to-videos. If you need direct support, we offer standard training and service programs that we tailor to your staff, and your facility.
Product Gravity Range
0.7 to 1.9 g/cc (700‐1900 kg/m³) specific gravity
Measuring Range
Standard 0 – 62 ft (23 m)
Extended 0 – 96 ft (29 m) Half Travel Kits
Ambient Temperature Range
‐30 °F to +160 °F (‐34 °C to +71 °C)
For complete technical specifications, download the technical document or product manual.
01 Tank Type
For application on bolted tank type
For corrosive or clean liquids, (stainless steel kit ‐ wetted parts)
For application on standard tank type
For corrosive chemical storage, (severe service kit ‐ wetted parts)
For asphalt applications
03 Measuring Distance
6 to 62 feet
2 to 23 Meters
Half travel version 13 to 97 feet
6700 Liquid Level Indicator Manual
Designed to assist the user with the installation, configuration, operation, maintenance, and troubleshooting of the Varec Model 6700 Low Pressure...
Float and Tape Tank Gauges
Simple, Safe and Reliable Inventory-Grade Level Measurement Float and tape gauges, also known as "automatic tank gauges", have been in...