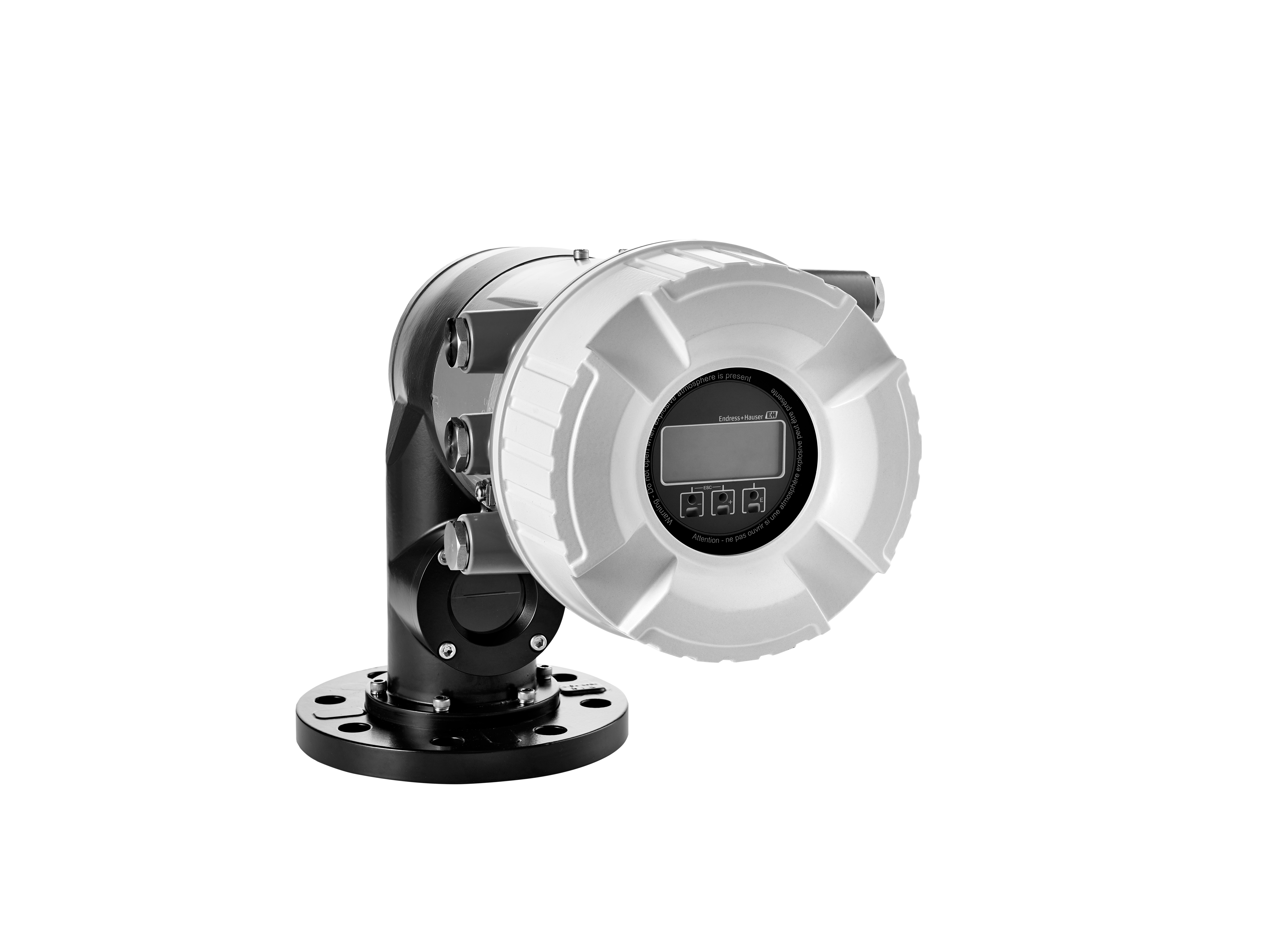 NMS80 Proservo Tank Gauge
The NMS80 Proservo Tank Gauge (PTG) is an intelligent tank gauge for high accuracy liquid level measurement and is suited for both custody transfer and inventory management applications employing the latest microprocessor technology.
Overview
Specifications
Options
Resources
Related Products
Designed for Industry
The NMS80 PTG is suitable for atmospheric and high pressure applications with a maximum reliability accuracy level of up to ±0.4 mm (±0.016 in). To make sure it fits your existing tank fittings, we have a wide variety of process connections to choose from.
True Multi-Measurement

In addition to level measurement, the NMS80 PTG can determine the interfaces between three liquids, specific gravity of these liquids and tank bottom. This allows the instrument to provide spot density measurements, profile the liquid density throughout the tank, or profile the stratified upper layer.
Proactive Safety Diagnostics
In the event of an abnormal measurement condition, the NMS80 PTG outputs a maximum level value to the local display and system software, thereby causing an alarm to warn your operators.
Compatible Communications
Output signals include industry standard RS-485 (MODBUS), as well as popular tank gauging protocols, such as V1 and HART. You are also able to connect a spot or average temperature probe directly to the instrument.
Industry Approval
The NMS80 PTG has FM, ATEX and IEC Ex and NEPSI approval for use in hazardous areas. It is also NMi, OIML and PTB approved for custody transfer applications and SIL2 certified for overfill prevention.
Simplifying Maintenance
Small features make your operators' lives easier and safer; intelligent diagnostics provide advance warning of required maintenance, such as replacement of worn wire. Wetted parts are completely separated from the electronic circuit and the built in calibration window allows operators to ensure the correct position of the displacer before service work is underway.
Accuracy
+/-0.4 mm for (+/- 0.015 in)
(Under reference condition, according to OIML R85)
Interface Level
+/-2 mm (+/-0.08)
(Difference of product densities 0.100 g/cm3 (6.25lb/ft3))
Standard Range
28m with 316L measuring wire
Spot and Profile Density
+/-0.003 g/cm3 (Under reference condition, according to OIML R85)
Medium Density
0.430 to 2.000 g/cm3 (27 to 125 lb/ft3)
Medium Density Difference
Enclosure Materials
Electrical compartment: aluminium
Drum chamber: aluminium
Rated IP66/68, NEMA Type 4x/6P enclosure
Wire Protection
PTFE coated St/St 316L, 0.4mm (max 16m)
Pressure Rating
Suitable for atmospheric and high pressure applications up to 6 bar/0.6 MPa/87 psi
Power Requirements
High voltage type: 85 to 264 VAC, 50/ 60
Hz, 28.8 VA
Low voltage type: 52 to 75 VAC, 50/60 Hz, 21.6 VA
19 to 64 VDC, 13.4 W
Safe Electrical Isolation
Bus inputs are electrically isolated from the other electronics
Operating (liquid) Temperature
-200 to +200°C (-328 to 392°F)
Ambient Temperature
Device: -40 to +60°C (-40 to +140°F)
Display Module: -20 to +70°C (-4 to +158°F)
Display (LCD)
Four line, white background lighting, switches to red for device errors
Language selection: English, German, Japanese
Programming
Tank side monitoring and operation can be performed by the remote display and operating module DKX001;  operation via the DKX001 is possible without opening the device
Configuration software (e.g., DeviceCare); connected via:
– HART
– Service port (CDI) with optional Commubox FXA291
HART Ex ia/IS Active Input
The HART Ex ia/IS active input is available by default. It needs not to be chosen
explicitly when ordering a device.
Approvals
ATEX, FM, IEC Ex, NEPSI
Metrological approvals and certificates – OIML, NMi, PTB
Flange Type
ASME or DIN. Refer to order code for full selection
Wire Material and Ranges
28 m (93.33 ft), 36 m (120 ft): 316L
16 m (53.33 ft): PFA > 316L
22 m (73.33 ft): AlloyC276
Displacer Diameter
30…50mm (dependent on application), optional 70…110mm
Displacer Material
Stainless steel 316L, AlloyC, or PTFE
Measuring Range, Wire MaterialCable Entry
NPT, Metric, BSP (G) class threads
Primary Outputs
MODBUS RS485
V1
4-20mA HART Ex d/XP
+ 4-20mA HART Ex i/IS
Secondary I/O Analog
1 x "Ex d/XP 4-20mA HART + RTD input"
2 x "Ex d/XP 4-20mA HART + RTD input"
1 x "Ex i/IS 4-20mA HART+ RTD input"
2 x "Ex i/IS 4-20mA HART+ RTD input"
1 x "Ex i/IS 4-20mA HART + RTD input"
1 x "Ex d/XP 4-20mA HART + RTD input"
None
Secondary I/O Exd
1 x "2x relay + 2x discrete I/O"
2 x "2x relay + 2x discrete I/O"
3 x "2x relay + 2x discrete I/O"
1x "Modbus RS485"
1x "Modbus RS485", 1 x "2x relay + 2x
discrete I/O"
1x "Modbus RS485", 2 x "2x relay + 2x
discrete I/O"
None
Power Supply
85-264VAC; LCD + operation
Displacer Material
316L; 30mm cylindrical
316L; 50mm cylindrical
316L; 70mm conical
316L; 110mm conical
PTFE; 30mm cylindrical
PTFE; 50mm cylindrical
AlloyC276; 50mm cylindrical
Process Pressure
0… 0.2bar/20kPa/2.9psi
0… 6bar/600kPa/87psi