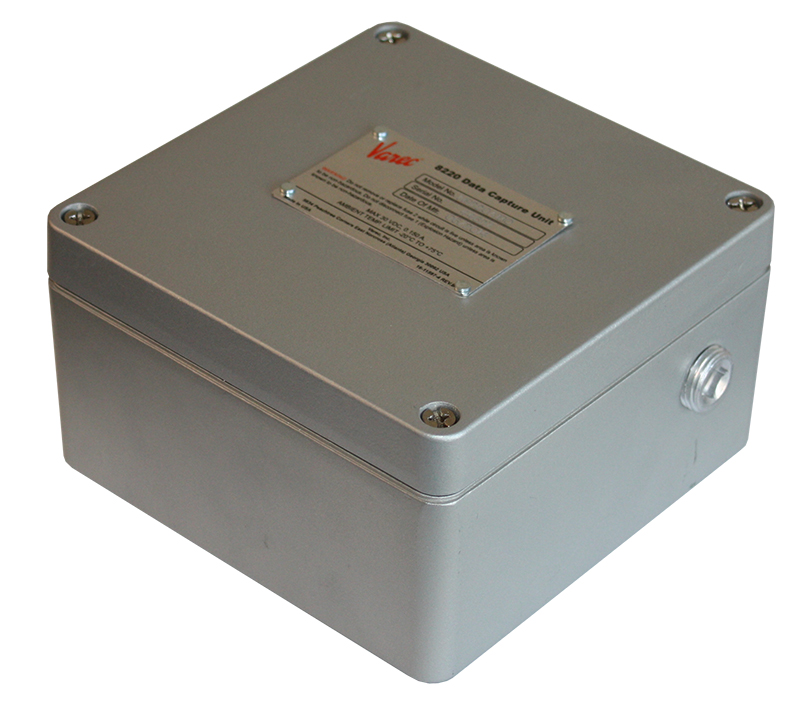 8220 Data Capture Unit
The 8220 Data Capture Unit (DCU) is an electronic fueling data acquisition, monitoring and automation device for use on fueling equipment, such as fuel trucks or hydrant carts. It connects to devices, such as flow meters or fueling interlocks, to assist with transaction validation, automate actions or identify maintenance requirements.
Overview
Specifications
Options
Resources
Related Products
Automated Fuel Management for Into Plane Operations
The 8220 DCU automatically collects metered fuel volumes and fuel temperatures for real-time fuel transaction management. It supplies fuel meter register data for accurate fuel inventory reconciliation on a daily basis. The 8220 DCU is mounted on a fueling vehicle and is connected to third-party pulse transmitters and an IntoPlane client PC. It provides meter value data upon request to the PC via an RS-232 connection. FuelsManager uses this data to show the total volume pumped.  To support wireless wireless, the 8220 DCU is equipped with a miniature radio transceiver and antenna, which allows it to receive commands from and provide status information to a remote computer without a wired RS-232 connection.
Net Fuel Volumes
If the fueling equipment is fitted with a fuel temperature sensor (3-wire RTD), the 8220 DCU is able to calculate temperature
corrected fuel volumes. This feature allows FuelsManager® to accurately compare net fuel volumes issued against physical inventories when accounting for gain/loss, which may result in a reduction of your monthly gain/loss totals.
Low Power Requirements
The 8220 DCU's own power output terminals provide constant or on-demand power for up to two pulse transmitters or other external devices. A low cost, low power solar solution can be easily retrofitted to any hydrant cart that is unpowered.
Suitable for Harsh Environments
The die-cast aluminum housing carries a NEMA 4 classification, while the electronics are rated for use in extreme temperatures of -4 °F to +185 °F (-20 °C to + 85 °C) – a combination that makes the unit suitable for use in harsh environments. The wired option is approved use in class 1, division 1 hazardous environments.
Highlights
Wired Option
2 pulse count channels
4 digital I/O channels, configurable as input or output
3-wire RTD input
4-20 mA input
IP66 enclosure
Connects up to two third-party pulse transmitters, such as Liquid Controls LectroCount® LCR-II® or or Veeder-Root®  EMR3™ Electronic Meter Registers
Wireless Option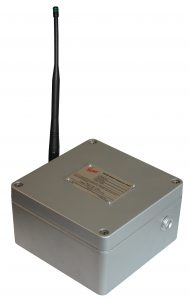 2 digital input channels for valve status monitoring
4 digital I/O channels, configurable as input or output, for valve control
3-wire RTD input
4-20 mA input
IP66 enclosure
Weight
3.5 lbs (1.587 kg) net
4.5 lbs (2.041 kg) shipping
Temperature
-4°F and +185°F
(-20°C and +85°C)
Communication
EIA232-C/EIA232-C RTS/EIA232-C CTS
Inputs
Digital I/O – 4 Channels
Pulse Input  – 2 Channels / 3 to 30 VDC voltage range
RTD Input  – 3-Wire Platinum or Copper Resistive Temperature Device
One 4-20 mA Analog Input – The 4-20 mA input provides up to 21 bits
(effective resolution) and up to 10 Hz throughput
Pulse Inputs – Maximum 2
Pulse Voltage Range  – 30to 30 VDC
Pulse Frequency Limit  – 30 KHz
Approvals
FM Approvals (FM) – Class I, Division 2, Groups A – D
Canadian Standards Association (CSA) – Class I, Division 2, Groups A – D
Enclosure
IP66, for Non_Hazardous Areas
Factory Mutual Approvals (FM) Class I, Division 2, ABCD, wired
Canadian Standards Association (CSA) Class I, Division 2, ABCD, wired