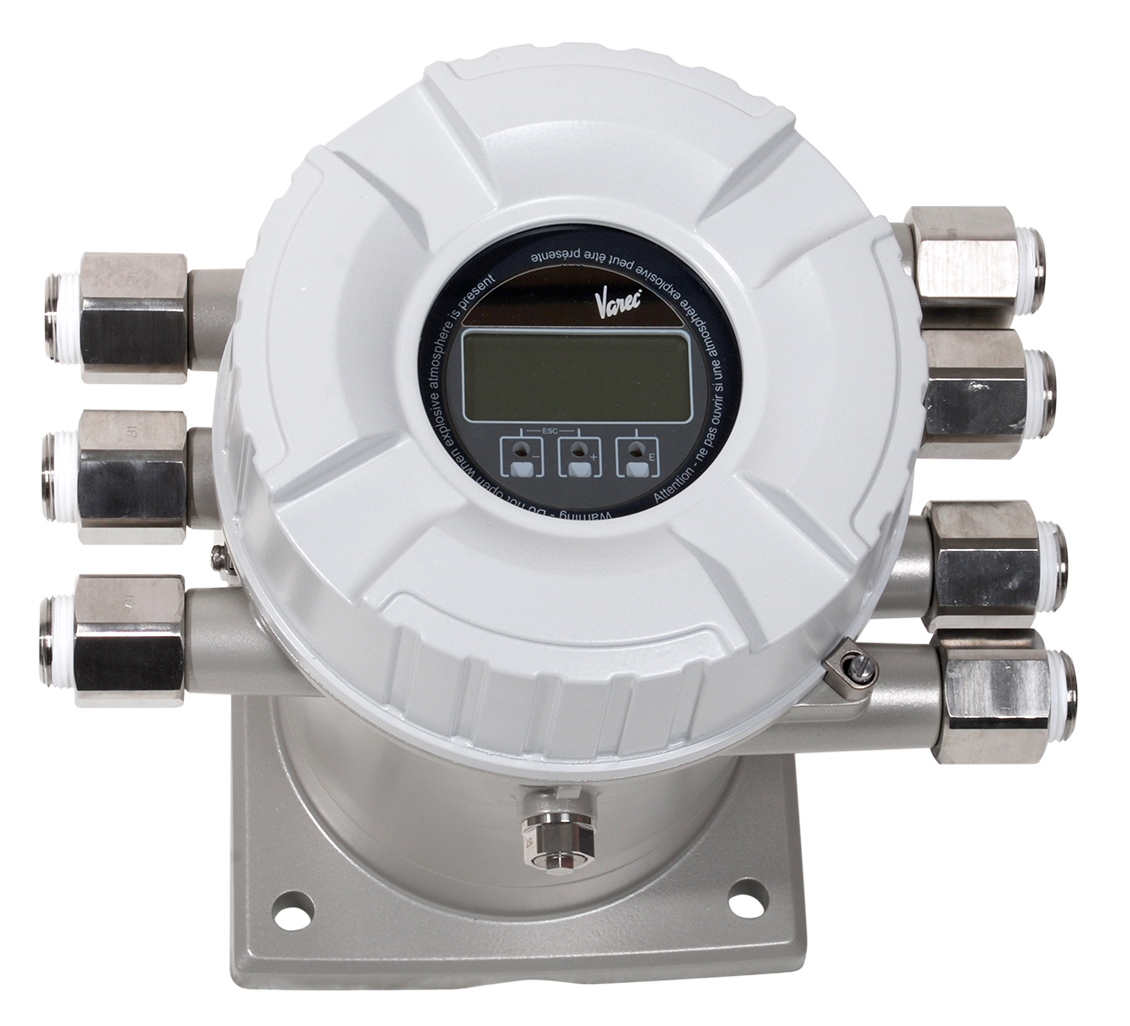 NRF81 Tankside Monitor
The NRF81 Tankside Monitor (TSM) is used in combination with Varec radar gauges for bulk storage applications at tank farms, terminals and refineries. It is designed to integrate and collect tank gauging data and provide detailed information for storage and process applications.
Overview
Specifications
Options
Resources
Related Products
Operational Process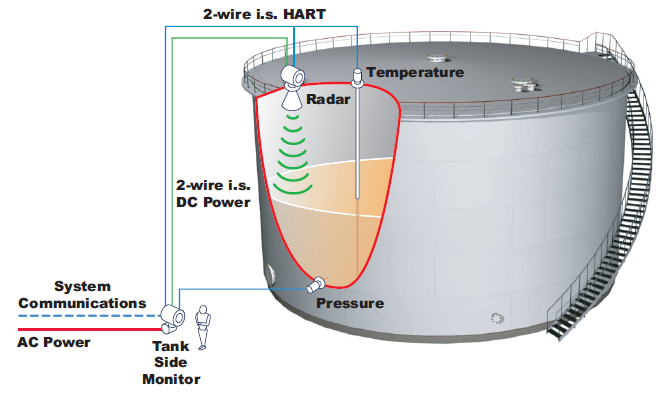 The NRF81 TSM is typically installed at the bottom of the tank for ease of access and allows access to all connected tank sensors. collects the measured values and performs several configurable tank calculations. All measured and calculated values can be displayed at the on-site display. Also, through a field communication protocol, the NRF81 TSM can transfer the values to an inventory control system like FuelsManager.
Easy to Read, Safe and Simple to Operate
Mounted within a flameproof enclosure,the NRF81 TSM has a Liquid Crystal Display (LCD) with touch control that ensures safe operation even in hazardous areas.
Versatile Tank Gauging
In addition to connecting to the primary radar tank gauge, the NRF81 TSM also integrates  HART® compatible devices using intrinsically safe connections, such as temperature and pressure transmitters for hybrid and hydrostatic (mass) applications.
Accurate Results
The NRF81 TSM fulfills the exacting demands of tank inventory management, inventory control, custody transfer, loss control, total cost saving, and safe operation. For volume calculation it will accept an input from either an average temperature probe 453x ATC series of temperature devices (via twisted pair cables, HART protocol) or via spot temperature element (via 2/3/4-wire RTD signal).
Worldwide Approvals
The NRF81 TSM is approved for use in explosion hazardous areas to ATEX, FM and IECEx standards.
Key Features
SIL2 certified (Min, Max, Continuous level)
Up to 6 SIL relay outputs
Wide range of output signals including V1, MODBUS RS-485, HART protocol
Interfaces to FuelsManager via the 8130 Remote Terminal Unit or 8300 series TankGate
Integration of HART instrumentation for temperature, water level,pressure, and overfill prevention sensor
Robust IP66/68, NEMA Type 4x/6P enclosure
Intrinsically safe power supply and communication for FMR53x radar level devices
Approved for use in explosion-hazardous areas
User-friendly operating menu (multi-lingual)
Provides communication to PLC, DCS, and SCADA systems
Weights & Measure-approved for use in custody transfer applications
Primary Outputs
 MODBUS RS485
 V1
 4-20mA HART Ex d/XP, RTD input
 4-20mA HART Ex i/IS, RTD input
Net Weight
12 kg (26 lbs) for housing plus electronics
Enclosure Materials
Electrical compartment: aluminium (AC 43000 T6) or stainless steel (316L)
Window: glass
Rated IP66/68, NEMA Type 4x/6P enclosure
Cable Specs
Standard device cable for the power line
HART communication line: Standard device cable only if analog, otherwise shielded cable
MODBUS communication line: Shielded cable
V1 communication line: Twisted pair screened or unscreened cable
Power
High voltage type: 85 to 264 VAC, 50/ 60 Hz, 28.8 VA
Low voltage type: 52 to 75 VAC, 50/60 Hz, 21.6 VA
19 to 64 VDC, 13.4 W
Bus inputs are electrically isolated from the other electronics
Temperature
Storage: -50 to +80° C (-58 to +176° F)
Ambient: Device: -40 to +60° C (-40 to +140° F) /  Display Module: -20 to +70° C (-4 to
+158° F)
For complete technical specifications, download the technical document or product manual.
Approvals
ATEX II 2(1)G Ex db[ia Ga] IIC T6 Gb
FM C/US XP-AIS Cl.I Div. 1 Gr. BCD T6 AEx d[ia] IIC T6
IEC Ex db[ia Ga] IIC T6 Gb
SIL
Communications
Primart Output:
Modbus RS485
V1
4-20mA HART Ex d/XP, RTD input
4-20mA HART Ex i/IS, RTD input
Secondary I/O Analogue:
Ex d/XP, 1x 4-20mA HART, 1x RTD input
Ex d/XP, 2x 4-20mA HART, 2x RTD input
Ex i/IS, 1x 4-20mA HART, 1x RTD input
Ex i/IS, 2x 4-20mA HART, 2x RTD input
1x Ex i/IS 4-20mA HART, 2x RTD input + 1x Ex d/XP 4-20mA HART
Secondary I/O Digital Ex D/XP:
2x relay / 2x module discrete
4x relay / 4x module discrete
6x relay / 6x module discrete
Modbus RS485
Electrical
Thread M20, IP66/68 NEMA Type 4X/6P Encl.
Thread M25, IP66/68 NEMA Type 4X/6P Encl.
Thread G1/2, IP66/68 NEMA Type 4X/6P Encl.
Thread G3/4, IP66/68 NEMA Type 4X/6P Encl.
Thread NPT1/2, IP66/68 NEMA Type 4X/6P Encl.
Thread NPT3/4, IP66/68 NEMA Type 4X/6P Encl
Antenna
50mm/2″
80mm/3″
100mm/4″, align. device
Housing
Transmitter Aluminum, coated