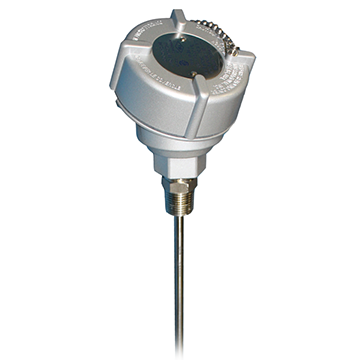 8500 Spot Temperature Sensor
Calculate accurate inventory volumes by integrating temperature measurement into your tank gauging system. Product temperature is used for volumetric calculation to a reference temperature and is of significant importance in the accurate calculation of liquid inventories in bulk storage tanks.
Overview
Specifications
Options
Resources
Related Products
Tank Gauge System
The 8500 Spot Temperature Sensor (STS) connects to the Varec float and tape transmitters, servo tank gauge or tankside monitor to provide spot temperature measurement for use in accurate inventory volume calculations.
Suitable for Many Applications
The 8500 STS provides many options to suit your applications, including probe lengths from 18″ to 48″ (46 to 122 cm), flanged models for 150 psig (1 MPa) and 300 psig (2 MPa) service, as well as HART, 4‐20mA, Profibus or Foundation Fieldbus communications protocols for integration with tank gauges or monitors.
Resistance Bulb
Platinum (DIN 385) 100 Ohms at 32 °F (0 °C)
Probe Lengths
18" (45.7 cm)
24″ (61 cm)
36" (91.4 cm)
48" (122 cm)
316SS Thermowell Process Connection
¾" male NPT
1" male NPT, 36" length (other lengths available upon request)
1½" 150 lb ANSI/ASME RF flange
1½" 300 lb ANSI/ASME RF flange
All thermowells have a ½" female NPT connection for RTD probes.
The bore on all thermowells is 0.260" for ¼" diameter probes.
Thermowells are available in different material types upon request.
Other thermowell flange sizes and ratings available upon request.
Thermowell Custom Additional Options
Wake Frequency Calculation
Hydrostatic Test
Full Penetration Welds
NACE Certified
Material Certificates
Positive Material Identification (PMI)
Plug & Chain; 304SS, 316SS, Brass
Ra 20 max Special Surface Finish
Coatings; Tantalum/ Halar, PFA, PTFE, Tungsten Carbide
Custom Stamping
Measuring Temperature Range (inside the tank)
Higher range ‐328 to 1100 °F (‐200 to 593 °C) available upon request
Operating Temperature Range (outside the tank)
‐40 °F and +185 °F (‐40 °C and +85 °C)
Enclosure Approvals
Rated IP65 (NEMA 4)
FM / FMC Approval: Class I, Div 1, Groups A,B,C,D Class II, Div 1, Groups E,F,G
For complete technical specifications, download the technical document.
01 Connection Type
¾" male NPT
1" male NPT, 36" length (other lengths available upon request)
1½" 150 lb ANSI/ASME RF flange
1½" 300 lb ANSI/ASME RF flange
Special Version (Contact Factory)
02 Probe Length
18″ (45.7 cm)
24″ (61 cm)
36″ (91.4 cm)
48″ (122 cm)
Special Version (Contact Factory)
03 Element Type
100 Ohm Platinum DIN385 Element, -328°F to 1100°F (-200°C to 593°C)
100 Ohm Platinum DIN385 Element, -328°F to 1100°F (-200°C to 593°C), in-head HART transmitter
Special Version (Contact Factory)