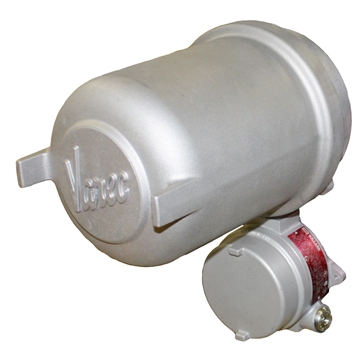 2910 Float & Tape Level Switch
The 2910 Float & Tape Level Switch (FTLS)  is a precision instrument designed to mount directly to most mechanical float and tape tank gauges to provide a switch driven indication of alarms or relays.
NOTE: There are no communications capabilities in the unit; it is a limit switch only unit. See the 2920 FTT if communications are needed. 
Overview
Specifications
Options
Resources
Related Products
Absolute Accuracy and Reliability
The 2910 FTLS is a cam-operated switch designed to mount directly to automatic tank gauges. The two, four, or six switches may be used to operate lamps, relays, motors, or solenoid valves providing the load does not exceed ½ HP at 250 volts AC. What's more, the precision direct-drive gearing requires no service, no battery back-up and contains parts designed to last a lifetime.
Automation and Control
The 2910 FTLS provides the first steps to automation and control. It can activate alarms or relays using SPDT cam-operated outputs. The switches can be selected for normally closed or normally open operation. They are mechanically operated directly from the main drive gearing and can be independently configured to switch at any desired tank level. These switches can be used to maintain a safer working facility and provide basic automation and control.

On Your Tank
The 2910 FTLS is easy to install. It mounts directly to most mechanical tank gauges (i.e. Varec, GSI, L&J, Sakura).

Rated For Safety
The 2910 FTLS is explosion proof and approved for use in hazardous-classified locations, making it particularly suitable for bulk storage applications found in the oil and gas industry.
Supported Worldwide
The 2910 FTLS is available to ship today. Every transmitter is supplied with detailed user instructions, but sometimes you need to see how it's done. That's why we also have a YouTube channel with basic how-to-videos. If you need direct support, we offer standard training and service programs that we tailor to your staff and your facility.
Range
0-25 ft
0-50 ft
0-100 ft
0-7.5 m
0-15 m
0-30 m
Approvals
cFMus (USA & Canada)
• Explosion proof Class I Division 1 Groups C&D T5 Ta = -25°C to +85°C
• Flameproof Class I Zone 1, AEx/Ex db IIB T5 Gb Ta = -20°C to +85°C
ATEX/IECEx (International) – Flameproof
• II 2 G Ex db IIB T5 Gb -20 °C ≤ Ta ≤ +85 °C
• II 2 (1) G Ex db IIB T5 Gb -20 °C ≤ Ta ≤ +85 °C
Operating Temperature
-40 °F and +185 °F (-40 °C and +85 °C)
Operating Humidity
0 to 95% relative humidity
Non-condensing
For complete technical specifications, download the technical document or product manual.
04 Limit Switch Range
0-25 ft
0-50 ft
0-100 ft
0-7.5 m
0-15 m
0-30 m
05 Limit Switches
Two (2) SPDT Limit Switches (180° adjustable dwell, positive activation)
Four (4) SPDT Limit Switches (180° adjustable dwell, positive activation)
Six (6) SPDT Limit Switches (180° adjustable dwell, positive activation)
06 Junction Box
No Additional Junction Box
Additional Junction Box