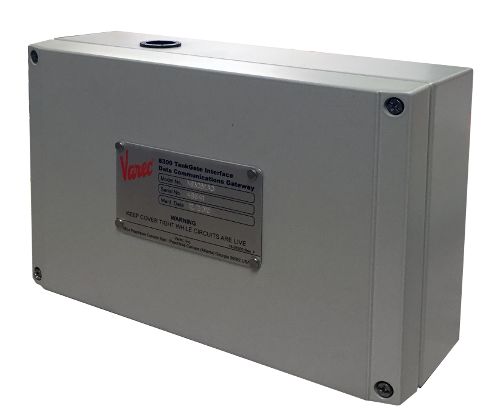 8300 TankGate Interface
The 8300 series TankGate Interface (TGI) provides data acquisition for tank farm, pipeline or refinery applications. It collects and transmits data from multiple storage tanks to a central system using a single tank gauge interface. All information obtained can be used for inventory, alarm, control and automation.
NOTE: This product is approaching its end-of-life status. Please contact sales or your local rep for current inventory availability for new units and/or spare parts. 
Overview
Specifications
Options
Resources
Related Products
Tank Gauge Integration
Through the use of a plug-in interface module, the 8300 TGI can receive various types of measured data from tank gauging instruments, such as level, temperature, density, water level or alarms. With ten modules available, it is possible to integrate float & tape transmitters, HTG, servo, magnetostrictive or radar gauges using a single device.
Host Communications
The 8300 TGI combines with FuelsManager® to provide an extremely cost efficient and reliable tank inventory system that is compatible with a variety of other host systems through the industry standard MODBUS protocol.
Configuration and Support
Remote programming can be accomplished from the host or locally using a PC with the Windows based configuration program, ViewRTU. This tool simplifies configuration and diagnostics, allowing uploading of final equipment configurations. Reports can also be generated via a built-in function to assist in documentation.
Simple Installation
The 8300 TGI's IP66 rated aluminum enclosure allows it to be installed in a variety of industrial environments. It can also be supplied with an optional NEMA 4 enclosure for additional protection.
Power
Supply: 100 to 240 VAC 50/60Hz
Consumption: 50 VA max. @ 110/220 VAC (500 mA)
Surge Protection
Host Communications
2 Ports
RS-232C and RS-232/RS-485
9600 Baud Rate
MODBUS™ and E+H RTU protocol
RTU mode, master and slave
Ambient Temperature Range
‐40 °F to +158 °F (‐40 °C to +70 °C)
For complete technical specifications, download the technical document or product manual.
01 Interface Module
Dual RS‐485 MODBUS™
Dual RS‐485 GSI ASCII
Varec Mark/Space Micro 4‐wire (Varec 1800, 1900, 6500)
Current Loop (Whessoe Bus)
Current Loop (GPE)
SAAB (TRL/2)
Enraf (811, 802/812, 854, 873)
L&J Tankway (MCG 1000, MCG 1500, MCG 2000)
Prime Measurement (3500 ATG)
Dual RS‐232 Veeder Root (TLS 350)
02 Enclosure
No Enclosure
16x16x6 inch NEMA 4 enclosure
03 Power Supply
No DC Power Supply
120VAC input, 48VDC, 1 Amp Power Supply
240VAC input, 48VDC, 1 Amp Power Supply
120VAC input, 24VDC, 1 Amp Power Supply
240VAC input, 24VDC , 1 Amp Power Supply
8311 TankGate Interface Manual
Designed to assist the user in the installation, operation, maintenance, and troubleshooting of the 8311 Tank Gate Interface.