Varec now supports oilfield operations with unique products and services.
Oilfields are at the epicenter of development to support fuel needs around the world. The exploration companies and service providers that work in this industry are often challenged to keep operational costs down while managing the impacts of constant changes in oil prices. We have launched new offerings that focus on the safety and optimization of day-to-day operations.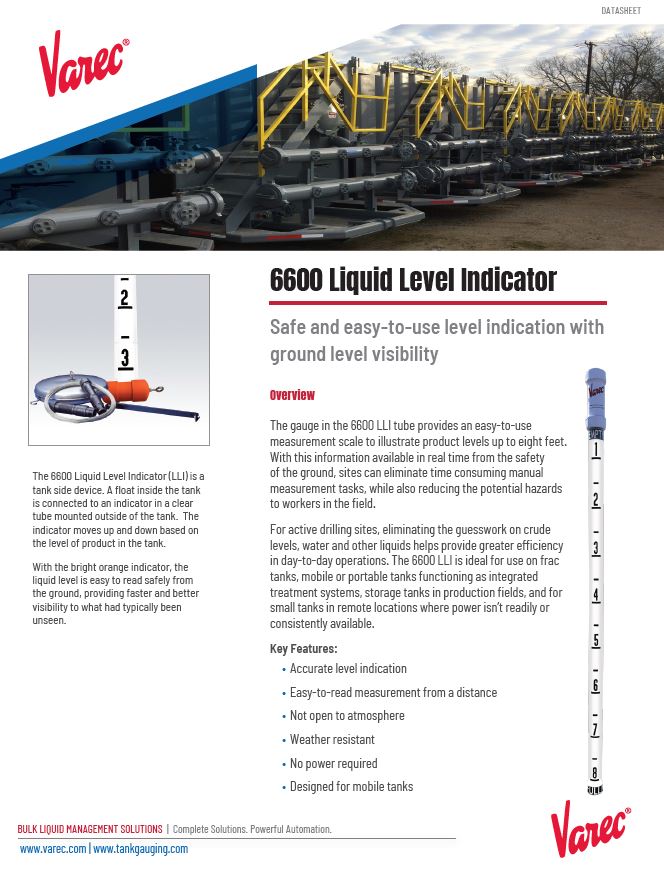 6600 Liquid Level Indicator Data Sheet
//= wp_trim_words(get_the_excerpt(), 15, '...'); ?>
Read More

Accurate and Safe Level Measurement
For active drilling sites, eliminating the guesswork on crude levels, water and other liquids helps provide greater efficiency in day-to-day operations. With Varec's NEW 6600 Liquid Level Indicator (LLI) for frac tanks, site operators gain access to a low cost, accurate and easy-to-use solution. This tank side device is comprised of a float inside the tank. The float is connected to an bright orange indicator in a clear tube mounted outside of the tank. The indicator moves up and down based on the level of product in the tank and is readable from a distance.
Securing Valves and Wellheads
We understand how important it is that emergency shutdown valves  (ESDVs) remain securely in place. Wellheads at drilling sites also need to be protected to prevent any unnecessary disruptions. Acting as an override, the Safety Valve Lock (SVL) prevents someone from accidentally rolling the handle in and closing vital secondary safety valves. Made of steel, the SVL is durable in harsh environments. The SVL not only prevents authorized persons from prematurely closing the ESDVs, it has an added advantage of being a deterrent for vandalism or theft.
Testing and Calibration
Our Transducer Testing and Calibration Services Program provides fracking companies with trusted, high-quality maintenance and pass/fail validation at each point in the testing process. This helps support the reliability and safety of their fracking operations. Based on the manufacturer's specifications and each company's operational requirements, we certify that each unit we inspect is cleared for use back in the field.
Acid Measurement and Management
Acid blending is a integral component of hydraulic fracturing. The Mobile Automated Ratio Control (MARC) system provides a safe, accurate and consistent acid blend based on the unique requirements of each frac stage. With MARC, hydraulic fracturing sites can eliminate manual acid delivery processes, and improve safety, as field operators will no longer need to be in close proximity to lines carrying acid or acid equipment during an active frac stage. This system is also designed to integrate into existing field equipment.
SALES SUPPORT INFORMATION
Have a question? Want to discuss other ways we can help you optimize your operations? Contact us today!