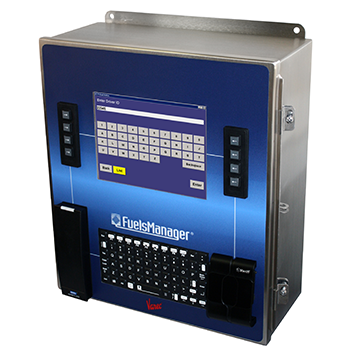 8620 Driver Entry Terminal
The 8620 Driver Entry Terminal (DET) is a field interface device designed for data entry and process management at facility control points, such as entry and exit gates, load racks, BOL request stations, weight scale stations and preload stations.
Overview
Specifications
Options
Resources
Related Products
FIPS-201 Compliant Operator Interface
The 8620 features multiple interface components, such as a biometric card reader (supports HID or Indala proximity cards, keyfobs, tags, smart cards, etc.) and fingerprint scanner that can be used to enter and record pertinent information about the operator or operation.
Data Capture and Process Control
The 8620 DET interfaces to FuelsManager® and supports TWIC data requirements. It captures data and provides user prompts or notifications. For example, it may capture driver ID for access control, truck ID for equipment safety, or provide notifications to drivers, such as product availability in a given load rack.
Automation and Control
Once authorization of the current process is received from FuelsManager, the 8620 DET sends I/O commands to connected devices, such as gate controls, electronic preset controllers or PLCs.
Data Transmission
Communication Ports: Ethernet (2) and/or serial (4)
Com 1, Com 2, Com 4: RS-232
Com 2: RS-485/422 or RS-232
Supports up to four General Purpose I/O via standard I/O modules.
Power Supply
Operating Voltages: 100 – 240 VAC 50/60 Hz or 24 – 48 VDC
Power Consumption: 175mA @ 110VAC or 1A @ 24VDC
Ambient Temperature Range
-40 °F to +158 °F (-40 °C to +70 °C)
Approvals
FM Approval (cFMus) – Class I, Division 2 Groups C and D, T4 – Class I, Zone 2, T4
Contact Varec for a full list of available options for this product.