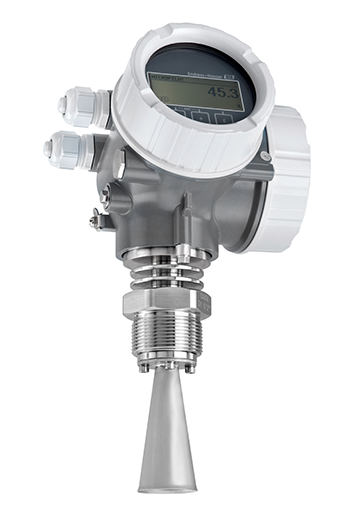 FMR51 Radar Tank Gauge
The FMR51 Radar Tank Gauge (RTG), with an accuracy rate of ±2 mm and ideally suited for inventory control applications, is used for continuous, non-contact level measurement in bulk liquid storage tanks.
Overview
Specifications
Options
Resources
Related Products
Accurately Measure Your Inventory
The FMR51 RTG uses 26 GHz band microwaves to measure liquids to an accuracy of ± 2 mm (0.08″). Changing process conditions inside your tank, such as temperature changes, gas blankets, pressures or vapors, have negligible effect on radar measurement.
Touch Screen Operations
Easy onsite operation using built-in touch control display without having to open the enclosure. A remote display is also available so that you can read and operate the gauge from the tank side.
Simple Device-to-Device Configuration
When setting up your system, the HistoROM module can be used to quickly transfer configuration settings from one gauge to the next. It can also be used to access historic data from device integrated memory.
Worldwide Approvals
Each radar gauge is approved for use in explosion hazardous areas to ATEX, FM, CSA, TIIS and IECEx standards. They are also SIL 2 and SIL 3 rated for overfill prevention.
Key Features
2-wire technology: Reduces on tank wiring costs and allows easy implementation into existing systems.
Non-contact measurement: Tank top is almost independent from product properties.
Small horn antenna 1½" to 4″ (40-100 mm) is ideally suited for small vessels.
Standard range to 131 ft (40 m). Extended range to 230 ft (70 m) using Advanced Dynamics.
Easy onsite operation using built-in touch control display without opening enclosure (or optional push button display with cover removed).
Access historic data from device integrated memory (HistoROM) and transfer configuration setting from device to device.
Easy commissioning and diagnostics using Windows® based software.
HART, PROFIBUS PA or FOUNDATION Fieldbus protocols.
High temperatures: Suitable for process temperatures from -321 °F (-196 °C), up to 842 °F (450 °C) with high-temperature
antenna.
High pressure: Suitable for pressures up to 2320 PSI (160 bar).
Approved for use in explosive hazardous locations.
Integrated over voltage protection.
SIL 2 approved for overspill protection system applications or SIL 3 for standalone applications.
Optional remote display (FHX50).
Maximum Measured Error
Standard Range Digital: ± 2 mm (0.08″) plus ±0.02 % of analog value
Extended Range Digital: ± 3 mm (0.12″) plus ±0.02 % of analog value
Current Consumption
HART: 3.6 to 22 mA
PROFIBUS PA: max. 14 mA
FOUNDATION Fieldbus: max. 15 mA
Weight
4 – 8 kg (9 – 18 lb) plus antenna
Enclosure
IP 66, NEMA 4X
(IP20, NEMA 1 with open housing)
Housing GT18: 316L, stainless steel
Housing GT19: plastic
Housing GT20: aluminium, seawater repellent, powder coated
Conduit Entries
Cable gland: M20x1,5 (for EEx d: cable entry)
Cable entry: G ½ or ½ NPT
PROFIBUS PA M12 plug
Fieldbus Foundation M12 or 7/8″ plug
Ambient Temperature
Unit: -40 °F and +176 °F (-40 °C and +80 °C)
Display: -4 °F and +158 °F (-20 °C and +70 °C)
Operating Frequency
K-band 26 GHz, Up to 8 devices can be installed in the same tank
Dielectric Constants
– er 1.9 in free-field applications
– er 1.4 in stilling well
See specifications document for more information.
Approvals & Certifications
FM, CSA, ATEX, IECEx, NEPSi, and TIIS
Antenna & Seals
1½", 3″, or 4″ (40 mm, 80 mm or 100 mm) Encapsulated PVDF or PP cladded horn antennas
Process Connections
1½" thread
Optional mounting bracket with slip-on (DN80, DN100 or
DN150) flange
Output Options
HART, PROFIBUS, and Foundation Fieldbus
Languages
Over 20 national languages available
Radar Gauge Comparison Guide
Easy-to-follow guide that compares the FMR532, FMR50, FMR51, FMR52, FMR53, FMR54, FMR540, FMR60, FMR62, NMR81 and NMR84 radar gauges.
Level Up! The True Cost of Accuracy
In recent years, European tank gauging manufacturers have focused their marketing efforts on persuading tank farm, terminal, and refinery owners...
FMR51 Radar Tank Gauge Manual
Please visit the Endress and Hauser website to access the parts and accessories information for the FMR51 Radar Gauge.