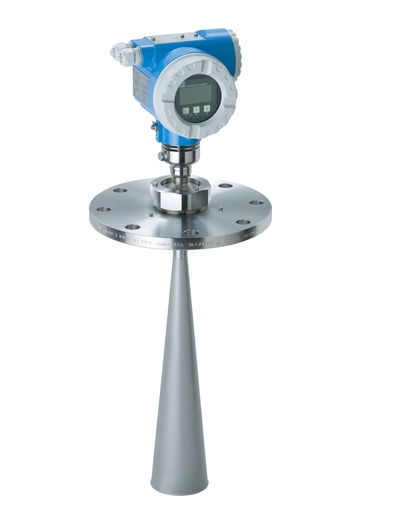 FMR540 Radar Tank Gauge
The FMR540 Radar Tank Gauge (RTG), with an accuracy rate of ± 1 mm, is a smart radar tank gauge for continuous and non-contact level measurement.
Overview
Specifications
Options
Resources
Related Products
Accuracy Approved for Custody Transfer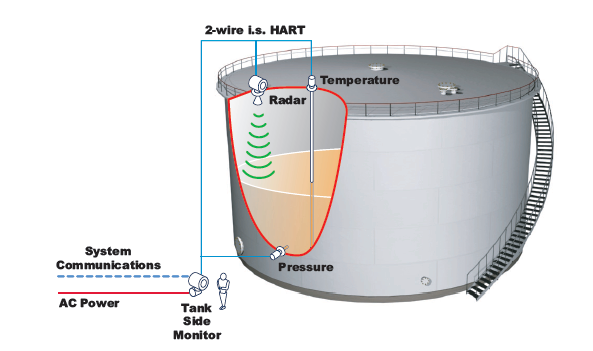 The FMR540 RTG, with an accuracy rate of ± 1 mm, is used for custody transfer and inventory control applications with NMi- and PTB-approvals and meets the requirements according to OIML R85 and API 3.1B. The parabolic antenna is particularly suited for free space applications up to 40m.
Touch Screen Operations
Easy onsite operation using built-in touch control display without having to open the enclosure. It also has a user friendly operating menu.
Worldwide Approvals
This radar gauge is approved for use in explosion hazardous areas to IEC Ex,  ATEX and WHG standards. It is also SIL 2 certified for overfill prevention.
Key Features
4-wire technology: HART and 24 V DC intrinsically safe power supply.
Non-contact measurement: Tank top is almost independent from product properties.
Horn antenna: DN100 (4″).
Parabolic antenna: DN200 (8″) or DN250 (10″).
Integrate into existing tank gauging systems using the 4590 Tank Side Monitor
Easy onsite operation using built-in display.
Easy commissioning and diagnostics using Windows® based software.
HART, PROFIBUS PA or FOUNDATION Fieldbus protocols.
Integrated air purge prevents antenna clogging.
Alignment device provides optimum alignment of antenna/radar beam to the liquid surface
High temperatures: Suitable for process temperatures up to -40 to +200°C (-40 to +392°F).
High pressure: Suitable from Vacuum to +16bar (+232psi).
Approved for use in hazardous locations.
SIL 2 approved for overspill protection applications.
Weight
6 kg (13.23 lbs) plus flange weight
Enclosure
IP65/68, NEMA 4X/6P (IP20, NEMA 1 with open
housing and removed liquid crystal display)
Housing F23: 316L, corrosion-resistant steel
Housing F12/T12: aluminum, seawater repellent,
chromate, powder coated
Temperature
-40°F to 176°F (-40°C to 80°C)
Range
Better than ± 1mm
Horn antenna: 30 m (98 ft)
NMi and PTB 15 m (49 ft)
Parabolic antenna: 40 m (131 ft)
NMi = 25 m (82 ft), PTB = 30 m (98 ft)
Power Consumption
Maximum 400 mW at 16 V
Maximum 600 mW at 24 V
Maximum 750 mW at 30 V
Non-Ex: max. 900 mW at 36 V
Operating Frequency
K-band 26 GHz, Up to 8 RTGs can be installed in the same tank
See specifications document for more information.
Approvals & Certifications
IEC Ex,  ATEX and WHG approvals
SIL2  certification
Antenna
Horn or parabolic – Various sizes and material types
Process Connections
ANSI, DN, JIIS, JPI and UNIflange
 Gas-tight feed through
Contact Varec for more information or see technical specifications.
Radar Gauge Comparison Guide
Easy-to-follow guide that compares the FMR532, FMR50, FMR51, FMR52, FMR53, FMR54, FMR540, FMR60, FMR62, NMR81 and NMR84 radar gauges.
Level Up! The True Cost of Accuracy
In recent years, European tank gauging manufacturers have focused their marketing efforts on persuading tank farm, terminal, and refinery owners...
FMR540 Radar Tank Gauge Manual
Please visit the Endress and Hauser website to access the parts and accessories information for the FMR540 Radar Gauge.