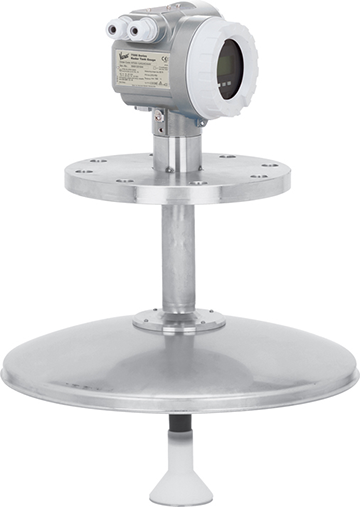 *FMR533 Radar Tank Gauge
The FMR533 Radar Tank Gauge (RTG), with an accuracy rate of ±0.5 mm and ideally suited for custody transfer applications, is used for continuous, non-contact level measurement in bulk liquid storage tanks. The FMR533 RTG with parabolic antenna is excellently suited for free space applications up to 40 m (131 ft). The parabolic antenna is the largest free space antenna with the smallest beam angle. It is ideal for applications close to tank walls, where a manway cover is available. The parabolic antenna is also an excellent choice on products with a low reflectivity, such as asphalts and bitumens.
NOTE: This product is approaching its end-of-life status. Please contact sales or your local rep for current inventory availability for new units and/or spare parts. 
Overview
Specifications
Options
Resources
Related Products
Accuracy Approved for Custody Transfer
FMR533 RTG uses C (6 GHz) band microwaves to measure liquids to an accuracy of ±0.5mm (0.02″) This gauge is NMI and PTB approved for use in custody transfer tank gauging systems.
Touch Screen Operations
Easy onsite operation using built-in touch control display without having to open the enclosure. A remote display is also available so that you can read and operate the gauge from the tank side.

Low Cost Wiring
Intrinsically safe 4-wire technology reduces on-tank wiring costs and allows easy implementation into existing systems.
Worldwide Approvals
Each radar gauge is approved for use in explosion hazardous areas to FM, CSA and ATEX standards.
Key Features
Cost‐effective intrinsically safe — 4‐wire cable for HART and 24 VDC i.s. power.
Easy on‐site operation using built‐in display.
Easy commissioning and diagnostics using Windows® based software.
Inventory control version with available (±3 mm) accuracy.
National approvals (NMi, PTB) for custody transfer.
Weight
13 kg (28.7 lbs) + weight of flange
Power consumption
Max. 330 mW at 16 V, max. 500 mW at 24 V, max. 600 mW at 30 V.
Current consumption
Max. 21 mA (50 mA inrush current).
Ambient temperature Parabolic antenna
‐40 °F to +185 °F (‐40 °C and +85 °C)
‐40 °F to +392 °F (‐40 °C to + 200 °C)
Enclosure
IP 65, NEMA 4X (IP20, NEMA 1 with open housing and removed liquid crystal display) Housing T12: separate terminal compartment for increased safety respectively explosion proof.
Material: aluminium, seawater repellent, chromate, powder coated
Conduit entries
M20x1.5; Pg 13.5 (gland included);
¾ NPT; G ¾ internal thread
Approvals
FM, CSA and ATEX approvals
Marine certificate ‐ GL (Germanisch Lloyd), ABS, NK
Factory Mutual ‐ IS Class I,II,III, Div 1 Groups A‐G T*
Class 1, Zone 0, AEx ia IIC T*
DIP Class II,III, Div 1 Groups E,F,G T*
NI Class I, Div 2 Groups A‐D T*
XP‐IS Class 1, Div. 1 Groups A‐D T*
XP Class 1, Zone 0, IIC T*
Antenna Class 1, Zone 0, AEx ia IIC T*
CSA ‐ ExnC IIC Class 1 Zone 2, Exd [ia] IIC Zone 1/0, Ex ia IIC Class 1 Zone 0
See specifications document for more information.
Approvals & Certifications
FM, CSA and ATEX approvals
Accuracy
NMi + PTB (<1mm) Custody Transfer, or Inventory Control Version (3mm)
Contact Varec for more information.
Level Up! The True Cost of Accuracy
In recent years, European tank gauging manufacturers have focused their marketing efforts on persuading tank farm, terminal, and refinery owners...