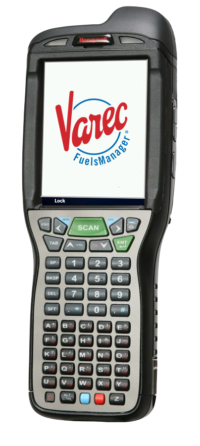 9640 IntoPlane Handheld Computer
The Varec 9640 Intoplane Handheld Computer (IHC) replaces back office data entry as a means of assigning and recording aircraft fueling transactions. It is an integral part of an automated aviation fuels management system.
Overview
Specifications
Options
Resources
Related Products
Rugged for Outdoor Logistics
The ruggedized 9640 IHC is designed to operate in harsh environments (IP67 classification) and survive user abuse, including 6-foot drops to concrete. The 9640 IHC is also approved for use in areas of operation, such as most areas under the aircraft wing. The epoxy-coated keypad and touch screen make data entry and process selections a breeze, even with bulky gloves.
Automates Into-plane Operations
Using the 9640 IHC, fuel agents are provided with time, gate, aircraft and fuel load information for efficient dispatching. It captures accurate fuel load data and automatically performs net volume calculations and validates calculations to help reduce data entry errors. The 9640 IHC also updates FuelsManager®  with real-time status and completed transaction data that enables ACARS messaging, fuel reconciliation and enterprise reporting.
Offline (Batch Mode) Operation
If real-time communications are not possible at a specific airport, the 9640 IHC is able to operate in an offline mode, whereby flight and fuel load information is downloaded at a WiFi hotspot to the unit in batches at the start of the day or shift.
Dimensions
215 mm L x 69 mm W (keypad) x 39
mm (standard battery)/45 mm (extended battery)
8.5 in L x 2.7 in W (keypad) x 1.5 in (standard
battery)/1.8 in (extended battery)
Operating Temperature
-20°C to 50°C
(-4°F to 122°F)
Storage Temperature
-25°C to 70°C
(-13°F to 158°F)
Drop
Withstands multiple 1.8 m (6 ft) drops to concrete, all axis, and across operating
temperature range
Environmental Sealing
Independently certified to meet IP67 standards for moisture and particle resistance
Processor
Texas Instruments OMAP3715 1.0 GHz processor
Operating System
Microsoft® Windows® Embedded Handheld 6.5 Professional and Classic
Display
Chemically strengthened 94 mm (3.7 in) transflective active matrix glass display, VGA (480 x 640), 333 nits
Touch Pane
Industrial touch panel with resistive touch and support for finger touch and stylus
Keypad
Backlit 55-key alphanumeric, 43-key alpha shifted numeric, 34-key numeric shifted
alpha (phone or calculator style), 54-key retail and 43-key warehouse
I/O Ports
RS-232/USB 2.0/audio out/charging connector, integrated IrDA port with support for
SIR mode
Battery
Standard: Li-ion, 3.7 V, 3060 mAh; Extended: Li-ion, 3.7 V, 5000 mAh
Battery Life
Standard/Extended: 9 hours/15.5 hours (scanning and sending data over WLAN every
9 seconds)
WWAN
GSM (Voice and Data): 3.9G – HSPA+ (800/850/1900/1700/2100 MHz), GSM/
GPRS/EDGE (850/900/1800/1900 MHz); software-definable radio: 3.9G – HSPA+/UMTS (800/850/1900/2100 MHz), GSM PRS/EDGE (850/900/1800/1900 MHz), EVDO Rev A – 1xRTT/EVDO (800/1900 MHz)
WLAN
802.11a/b/g/n, Wi-Fi certified
WPAN
Bluetooth® V2.1, support for enhanced data rate 2.0 Mbps and 3.0 Mbps rates class II
GPS
Integrated Assisted GPS (A-GPS) with fast position acquisition and low power consumption
Contact Varec for more information.
Contact Varec for order code information.
Into-Plane Fuels Management System
Swissport Fueling Services deployed the FuelsManager Into-Plane solution to automate their fuels management processes for British Airways at London Heathrow...