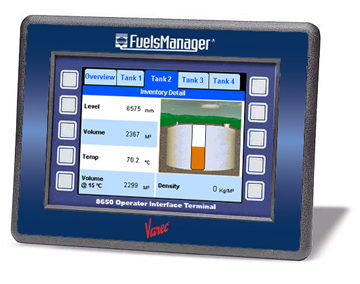 8650 Operator Interface Terminal
The 8650 Operator Interface Terminal (OIT) is a panel mounted touch screen display for tank gauging applications.
Overview
Specifications
Options
Resources
Related Products
Less On-tank Activities
The 8650 Operator Interface Terminal (OIT) allows you to display liquid inventory data in areas away from the main control room, such as a remote pumphouse. Users can quickly and easily review the contents of up to 10 connected tanks without going into the tank farm.

Extend Your Existing Equipment
Acting as a MODBUS master, the 8650 OIT polls data from any connected MODBUS slave device, such as an 8130 RTU or 8300 TGI, to receive tank data.
Configuration and Programming
Each 8650 OIT must be configured for the specific application. All programming and configuration is performed by Varec's engineering services.
Input
Primary input 9‐pin serial port EIA‐232 – Software‐selectable
Optional input 9‐pin serial port EIA‐232/422/485 – Software‐selectable
One 10/100 RJ45 Ethernet port.
Two 2.0 USB ports (for mice, keyboards and memory devices)
Display
7″ (177 mm) diagonal WVGA 800 × 480 pixels
12.1″ (307 mm) WVGA 800 × 600
Approvals
NEMA 4, CE, & UL certified
For complete technical specifications, download the technical document or product manual.
Contact Varec for a full list of available options for this product.