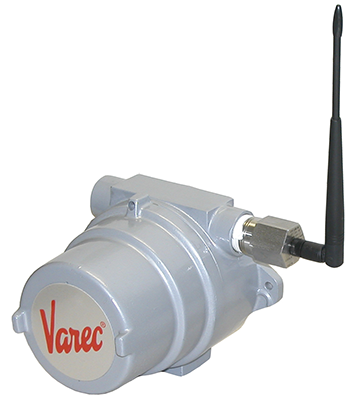 8410 Wireless Field Transceiver
The 8410 Wireless Field Transceiver (WFT) provides a complete solution for wireless transmission of tank gauging data from field instruments to a control room system.
Overview
Specifications
Options
Resources
Related Products
Reliable Communications
The 8410 WFT provides simultaneous slave/repeater functionality and line-of-sight transmission up to 20 miles. 900 MHz frequency range cuts through extreme RF background noise. It can be configured for point-to-point or multi-point systems to ensure your tank data never fails to reach the control room.
On Your Tank
Varec offers a wide range of mounting options and antennas to install the 8410 WFT and its antenna in the optimum location, such as on a hand rail, conduit, stand pipe or post.
Frequency
900-928 MHz with Frequency Hopping Spread Spectrum (FHSS)
Output
100 mW to 1 Watt with substitution, dynamic key encryption
20 miles, line‐of‐sight
Features 24 VDC out for supplying power to connected devices, such as the Varec 2920 FTT
Input
RS‐232 / 485 / 422 data (software selectable) 1200 to 115.2 KBaud. e.g. MODBUS
3‐wire RTD pass through terminals to connected device
Power Consumption (@ 24VDC)
6 mA in sleep mode
15 mA in idle mode
54 mA in full time receive
250 mA transmit current
Ambient Temperature Range
‐40 °F to +167 °F (‐40 °C to +75 °C)
Approvals
NEMA 3, 4, 7 & 9
IP66 (optional)
For complete technical specifications, download the technical document or product manual.
01 Power Drive
110/220 VAC 50/60Hz
6-90 VDC & 30-65 VAC
03 Antenna
Maxrad – Yagi – 6.4dB Gain, 14″ N Female
Maxrad – Yagi – 9.0dB Gain, 20.5″ N Female
Ventech Omni – Unity Gain, 8" RP-SMA
Maxrad Omni – Unity Gain, 14″ N Female
Maxrad Omni – 3dB Gain, 23″ N Female
Maxrad Omni – 5dB Gain, 48″ N Male
Maxrad -Omni – 7dB Gain, 96″ N Male
Note! Yagi Antennas provide increased RF range in one direction. Omni-Directional antenna's provide 360 degree coverage for communication in any direction. Option OU mounts directly to the 8410. All other options require cabling and mounting.
04 Antenna Mounts
None
Maxrad Yagi Mount
Light Duty Mast Mount for under 30′
Light Duty Mast Mount for over 30″
Heavy Duty Mast Mount
Wall Mount for Antennas over 30″ (Two required)
05 Lightning Protection
None
Inline Lightning Arrestor, 2x "N" Type Female Antenna
Note! Antenna option 'L' is not compatible with Antenna Connection "S", or Antenna "OU"